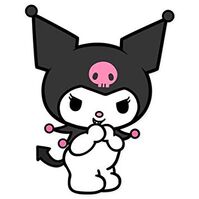 My Melody's friendly rival is a tomboy who loves making mischief and causing trouble! Although she may look tough, she is actually very girly and is attracted to good-looking guys! Kuromi enjoys writing in her diary and is hooked on romantic short-stories. Her favorite color is black and her favorite food is shallots. Fittingly, her birthday is October 31st.
Ad blocker interference detected!
Wikia is a free-to-use site that makes money from advertising. We have a modified experience for viewers using ad blockers

Wikia is not accessible if you've made further modifications. Remove the custom ad blocker rule(s) and the page will load as expected.